Subaru Justy ECVT Information
The Justy uses a unique Electronic Constantly Variable Transaxle (ECVT) instead of a traditional automatic transmission. The CVT technology was employed by Subaru to gain reasonable acceleration and fuel economy from their three cylinder engine. Many automobiles now use CVT units instead of Automatics, such as the Ford Freestyle, Honda FIT, Nissan Murano, Rogue, and Versa. Subaru was the first company to use a CVT transaxle in America, but they no longer do so. They got out of the game when the Justy was discontinued.
So what is CVT and how does it work? This transaxle combines a magnetic powder clutch with a steel belt and two variable pulleys. The magnetic powder clutch is controlled by the computer, which monitors engine speed, vehicle speed, and throttle position. Power from the engine is transmitted thru the transaxle clutch and then to the drive pulley. A steel belt connects this drive pulley to a larger pulley on the output shaft. The computer uses the magnetic powder clutch to change the width of the two driven pulleys, thus providing an infinite amount gear ratios instead of the traditional four and five speeds. These ratios typically range between 5.006 and 0.497.
So what's with the gear shifter? It looks odd! The Justy's shifter is also unique, but has a familiar P-R-N-D-Ds layout. Park is a hydraulic lock, just like in a regular automatic transmission. Reverse is mechanical, just like a regular transmission. Neutral is a pressure relief system, just like in an automatic transmission. Drive engages the powder clutch, but the car will not move until you press the gas. This is because the throttle position sensor charges up the powder clutch to apply tension to the belt. This is why every Justy jumps a little bit when first put into Drive.
But what is Ds on the gearshift??? Ds is Drive Sport, a setting that doubles engine RPM by altering the gear ratios of the ECVT. This is useful when making passing maneuvers and going up and down steep hills. It is essentially doubling the final drive ratio of the transaxle, doubling the RPM's to keep the engine higher in its power band.
How about the 4WD units? Do they work the same? Yes, the 4WD units are identical to the 4WD units, only they have an extra housing bolted to the back of the transmission that contains a small electric clutch. When the 4WD button is pressed on the shifter, this electric clutch engages with an extra gear that is mounted on the output shaft, rotating your driveshaft and sending power to the rear differential of the vehicle. 2WD and 4WD ECVTs may be modified interchangeably in most aspects.
ECVT System Overview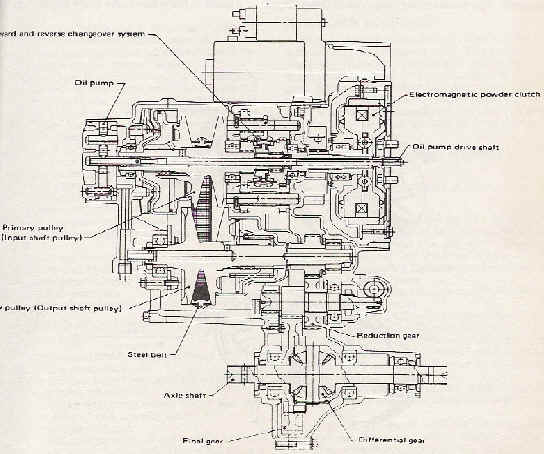 ECVT Pulley Operation
ECVT System Diagnosis Manual I (.pdf file 38.4MB)
ECVT System Diagnosis Manual II (.pdf file 53MB)
CLICK HERE FOR REMANUFACTURED ECVT UNITS !!!