Subaru Justy History: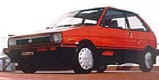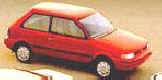 The first Justy was introduced in 1984, but was not imported to the US until 1987, and 4WD was not available here until 1988. The Justy was updated in 1989 with a new, rounder body and a 5DR version appeared in 1990. These new models also had Multi-Port Fuel Injection and an optional ECVT transaxle. In 1994 the original Subaru-built Justy ended and became a renamed Suzuki Swift fitted with Subaru 4WD; it was sold in most European countries. None were ever imported into the US, but you could get its replacement, the Geo Metro. In 2004, this was replaced by a Suzuki Ignis known as the G3X Justy. In some countries it was also sold as the Subaru Trendy. There was never a factory Subaru Turbo Version, and all 1995-2003 Models used the Suzuki G13 four cylinder engine.
Suzuki today is successful manufacture of cars and motorcycles, even included in the world of motorsports as one of the most prominent motor engines. It is no surprise that Suzuki is a synonym for speed, as we can witness on the race tracks. Betting on motorsports is equally exciting as the sport itself. Today online betting is so convenient and easily accessible, but above all, the most lucrative too, thanks to the chance of free bets. There are plenty of online casinos to choose from, but none of them is like the pokerbetlife.com website, a true expert both for sports betting and any other casino game, including poker. As you can see, the world we know today regarding vehicles and motorsports owes it to these long year manufacturers.
The US Justy was equipped with the 1.2L three-cylinder SOHC 9v engine (EF12), and a manual transmission or an optional continuously variable transmission beginning in 1989. Front wheel drive was standard or, on-demand four wheel drive was available on GL models. The manual transmission version was known for excellent mechanical reliability and fuel economy, 50 miles per gallon!!! The transmission worked reliably, but was noisy and not smooth to operate because of its synchronizers. The EF12 ranged from 66 to 73HP, but is capable of 130HP on stock internals, and over 200HP with upgrades. If interested in Justy performance please visit our Justy Performance Page for info and parts!!!
Car lovers are many around the world, and that's why cars are always a popular theme in many games, no matter if they are casinos or video games. Literally, there are thousands of online slots games available on the casino market, popular among all car enthusiasts, and if you are one of them, you are only a click away from the best free games with bonuses. Enjoy doing what you like, and start winning real money out of your favorite pastime.
Information:
Model Information and Identification. Find what you own, and what equipment you have!!!
Service Information, Diagrams, Specifications, Capacities, Torque Specs
Subaru Justy Production Numbers and ID, (month-by-month)!!!
Click Here to see the Justy Commercial! (.mov format 1MB)
Brochures:
1987
1989
1991
Online Parts Lookup and Service Manuals:
Reproduction Justy Parts Catalog Available!!! 721 Pages of Justy Goodness! All parts breakdowns, part numbers, model and part interchange information!!! Comes bound in a 3"binder. Covers all 1987-1994 models.
No longer available from Subaru!!! Order DJCATF $110